The Bells are ringing . . . .
Welcombe Bells

The Welcombe bell ringers have restarted with ringing at all services where possible.
It is intended to practice on Monday nights at least fortnightly.
Dear Friends,

As you may have heard on Sundays, the bells of St Nectans Church Welcombe are once again ringing out after a long period of silence, due to the pandemic.

It was a bit strange to pull those old ropes again after over a year had passed but just like not being able to riding a bike for a while it all comes back to you when you try again, and okay I'm not that good at riding a bike either. When I started learning to ring the bells it seemed incomprehensible that everything I had to think about would eventually become second nature, just like diving a car.

Because the bells are well balanced you do not have to be a weight lifter to keep them ringing. In fact if you pull too hard on the rope at one end you then have to hold it back to stop it going too far on the other end causing a lot of unnecessary effort and sweat. The rhythm will come naturally to many and has its own feeling of calm amide the clamour of the bell peel, and the clever way that you can change the resonance and reverberation by moving bells to ring in front or behind each other is quite remarkable.

St Nectans, Welcombe is well known for its particularly melodious six bell peel and its short tower and therefore shorter ropes making it much easier to ring for learners. At the moment our team consists of equal numbers of male and female ringers but we only have enough ringers to ring all six bells on a good day if we can all make it.

So, if you would like to have a go at bell ringing or just come and watch for a while on Monday evenings from 7.30pm during July and August please just turn up or you can contact me on 331700 if you have any questions at all.

Mick Dollimore, Nectans Meadow.
Click here for the
Welcombe – St. Nectan's Church Bell and Tower Restoration Project.
The bells at Welcombe are a light 6 (7cwt.), almost any 4 or 5 of which can be rung in a melodious way.
Welcombe bells had not rung out since August 2015 because the bell frame was in need of repair, but the good news is that the renovation is now complete - the repointing was finished in July 2016 and the bells came back on 26th September 2016 so that they were then back in action well before Christmas.
.

The ringing of preference in this part of the world is known as "Devon Call Change Ringing", where the ringers are called through a series of changes, one bell moving at a time. The resident bands of Welcombe ringers in the recent past have been very active in various competitions in the South-West.
There is also, however, a strong following for "Method" ringing, where a method is learnt by all the ringers, who then proceed to follow the pattern they have learnt, which may be varied by the caller.
A number of quarter peals in various methods have been rung by the Welcombe ringers, as recorded in the tower.
There is not currently a regular practice night, please ring Mick on 331700 for details.
We normally ring every Sunday when there is a service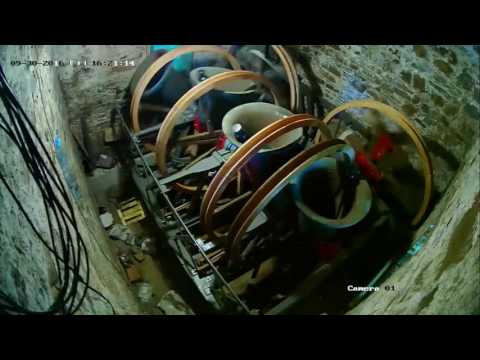 Click picture to view
On occasional Sundays and on special occasions when possible there will be CCTV of the bells on a 5x4 foot screen.
Obviously because of damp and cold, and security, the equipment is not left in the Church all the time, but on certain Sundays and on special occasions you will be able to hear the bells and see them working in the belfry at the same time.