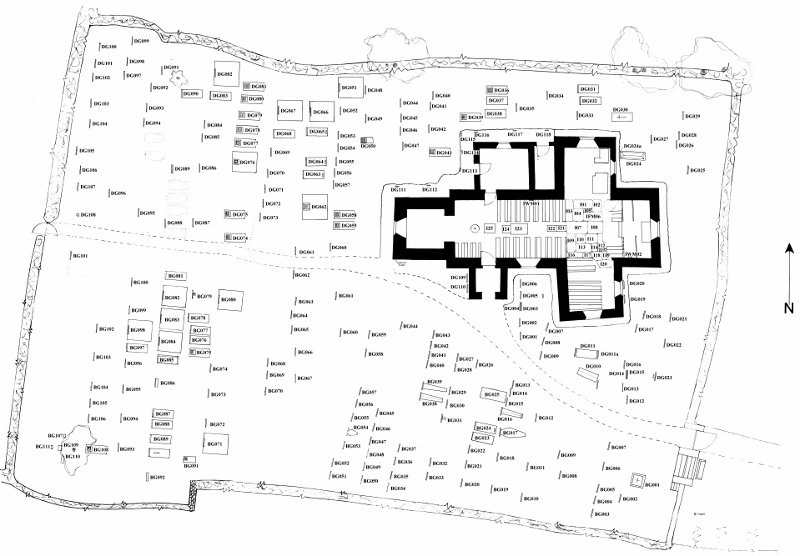 The square-headed screen (early 14th century) is of unique interest. It is, except for its cornice (which is later and much resembles that at Hartland) by far the earliest remaining screen in Devon. The lectern is Jacobean and the pulpit restored Tudor
The semi-circular head bell-chamber windows are probably reused C16 material, the tower has a large weathered offset at plinth level, smaller offsets between first and second and second and third stages.
The West end of the Church has a small window with a 4-centred arch head, and a C20 4-pane casement has been inserted. The nave has a single window to the south, with a 3-centred arch head, a label of granite and granite jambs; a C20 Gothic casement has been inserted in place of earlier tracery. The South transept has a simple semi-circular headed window with 2-light granite tracery, probably renewed in 1897 when the present stained glass was inserted. The East face of this transept as a C20 9-pane casement in a hollow-moulded stone surround with a concrete cill.
There is a tall semi-circular tower arch with rubble jambs and voussoirs. The transepts have C19 wagon-roofs with tongue-and-groove board, though the wall plates are earlier at the tops of the walls, probably C16.
R S Hawker, the Cornish poet and antiquary, was curate here for 30 years, and held the living in conjunction with Morwenstow from 1851.
The Lych Gate, Stile and Short Section of Churchyard Wall , the Adjacent Cottage, and the Well Housing at St Nectan's Well opposite are all listed grade II.
The Chancel has a semi-circular head. The East window rises to a slight point at the apex and the concrete label was renewed late C20.
There is a gabled south porch with a plain outer door opening with rubble jambs, with stone benches inside on a flagstone floor. The inner doorway is in a C16 moulded stone frame. The interior is plastered on flagstone floors. Towards the east end a larger number of good C17 and C18 memorial slabs are inset into the floor. Under the tower there is a late C19 tile pavement.
The nave and chancel are continuous under a C16 wagon roof with moulded ribs and carved bosses, the 5 towards the east end have gilding and colouring remaining. Above each transept arch there is a section of richly-carved cornice, again with colouring and gilding surviving. The plaster between the ribs was replaced during the C19 restoration with tongue-and-groove board. The transepts have crude arches with squared rubble jambs and voussoirs.